The Easy Wisdom of Little Kuan Yin

We are always in partnership with that which we serve and are served by, whether people, animals, nature, or task.

After Meara's death in 2009, the Institute was not immediately ready to welcome another resident kitty.  However, on November 13, 2011, Clare entered our life.  It was as though Meara had sent her.
Clare arrived on Meara's April 15 birthday in 2010, sitting on a woodpile outside Maggie Scobie's country home in Leesburg, VA.  Maggie, an Institute member, immediately recognized Clare as the Institute's next resident kitty.   However, Clare needed to be tamed, not because she was feral, but because she had somehow been lost in the wild, surviving by her wits for an unknown period of time.
Clare was finally tame enough to move into the Institute on November 13, 2011. Not knowing her true day of birth, we gave her St. Clare's July 16 birthday.   Clare gradually healed the remaining skittishness and fear of abandonment she brought with her after being lost in the wild for so long.  I promised Clare I would never leave her – and I never did.
Clare proved to be one-of-a-kind.  We soon realized that Clare was a masterful spiritual teacher who taught others through example.  We called her Little Kuan Yin because she embodied "easy wisdom," a constant state of inner harmony and alignment with the Divine. She communicated her unconditional love with others in the right way, at the right time, and in the right amount.  Many recognized her as the personification of "sweetness transcends all things."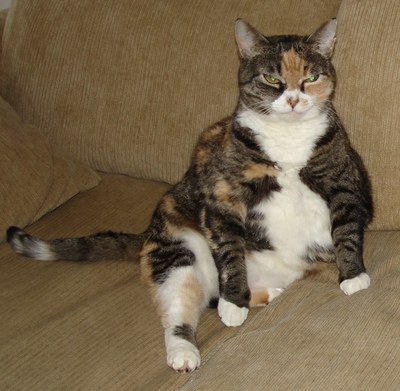 Clare lived a quality life at the Institute and served as a greeter for two and a half years until her death by cancer on the full moon of May 14, 2014. The following excerpt from a poem by Ann Benvenuto, an Institute member, expresses the spiritual depth of our Clare:
For that she is precious as the sound of tinkling jade.
For that she trots up gently on her tiny feet with great purpose to greet us.
For that she is patience and purity, and teaches us these.
For that she is a little seva being.
For that she came to help us in our sacred work.
For that she has beautiful fur, of which she is rightly proud.
For that she is the 'Clare' in 'Clarion.'
For that she has a subtle soul.
For that LOVE, pure and clear, radiates out of her.
For that she LIVES love, and is it.
For that, in her little Buddha body, each breath is compassion.
For that she is Kuan Yin, Goddess of Compassion, in the sacred shape of cat.
For that she only wishes to serve, and that she IS service.
For that she is loved.
We pray for her highest possible evolution.
For that she is so loved.
Clare joins our three other Wisdom Bearers – His Holiness the Dalai Lama, Michelangelo, and Meara.
Practice this reflection slowly and with tender care at the beginning or end of your day:

Sit or lie in a place where you will not be distracted or disturbed. 

Choose to connect to the place in your heart where the beauty of inner silence resides.

While abiding in silence, recall an animal or scene in nature that awakens within you the presence of purity, unconditional love, and divine essence.

Bask in the glory of this precious gift.

Allow the glow of this memory to awaken gratitude within you.

Remain in the joy of this memory, allowing it to embrace and nurture your body . . . your emotions . . . your mind . . . . and your soul.



Share with me what you experienced doing the Reflection exercise, or just say hello and let me know if you are finding my blog of value. 
Email me HERE.