Iris Williams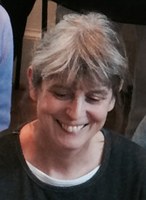 Iris Williams has been studying, practicing, and teaching at the Institute since 1997. She has completed Institute classes and trainings in psychospiritual development, leadership, organizational design, and energy healing.
Iris is a member of The Clarion Way Programs Faculty.  She joined the board of the Institute in September 2011 and became Board Treasurer in September 2015.  She has co-led classes in group consciousness and meditation and has been a practitioner of energy healing.  Iris served as the coordinator of the Institute's House Committee in our former home at 111 South Columbus Street and was a member of the Institute's office staff.  She also served as a member of the Prosperity (Finance) Committee.
The Clarion Way is the psychospiritual path of the Institute.
Iris is an AMI-trained Montessori teacher with children 18 months to three years of age and has co-led workshops for parents in Washington, DC.  Prior to coming to the United States from Germany in 1986, Iris spent ten years as an office manager/ secretary at Mercedes Benz.